Shin Do Kumate VII - Results
When: 6/11/2005 - 6/11/2005
Where: Tampa, Florida, U.S.A

Shin Do Kumaet VIIi was a huge success. everyone at MKM Knockout Promotions, inc. would like to thank our loyal followers and everyone who supported and attended the event. there were a total of 8 bouts, three amateur and five professional. The main event between Remy Bonnel, originally of Paris, France, now training in Miami,FL and TrevorSmandych of CalgaryCanada proved to be a brutal fight. Bonnel proved to be a warrior, edging outSmandych by decision.
Women's Match
Fight # 6 Kate Meehan vs. Suzy Montero
Kate Meehan, from Denver Colorado showed that experience is definitely a deciding factor in winning a fight. Throughout the whole fight, Meehan kept it in the middle of the ring against Suzy Montero, from Lauderdale Lakes, FL. Both fighters kept up a constant exchange of punches and kicks, but with Meehan coming out with the better exchanges. This was the best shape that we have ever seen Meehan in and it showed in her explosiveness and constant activity. Montero showed great poise in her Pro debut, but was not able to handle the more active and efficient Meehan. Kate Meehan won on a Majority decision by the judges.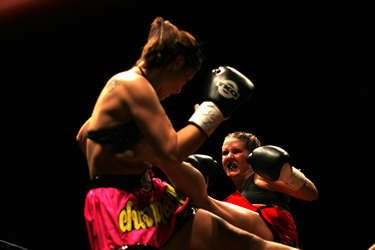 The matchmaking has already begun forShin do Kumate VIII onSeptember, 17, 2005. we are hoping to have a rematch between Bonnel and Smandych, but the main event will be huge! master mehrdad, the founder of Shin Do Kumat, will oppose Patrick Berry of New Orleans. this will be the event of the year and master mehrdad promises to give the crowd a show they will never forget.
tickets are on sale now for september 17. contact the office at 727-823-8914 and ask for kate vaughn or visit us online at www.mkmfights.com for more info. presale tickets are $10 off but will not be offered for long. we look forward to hearing from you.