HOOKnSHOOT "Evolution"
When: 11/6/2004 - 11/6/2004
Where: Evansville, Indiana, U.S.A.

The second ever all-women's mixed martial arts event will take place on November 6th, 2004.
HooknShoot was the absolute first to bring women to the forefront of MMA with their "Revolution" show in 2002.
"this time it's different!" says promoter Jeff Osborne.
"We've established the first ever champion, Jennifer Howe, and i think we've done what we've set out to do....bring more women out of the gyms and into the rings"
Osborne says that over 24 women have already voiced interest in the event with 12 "definites"
Those interested in sponsoring, tickets or general information can contact.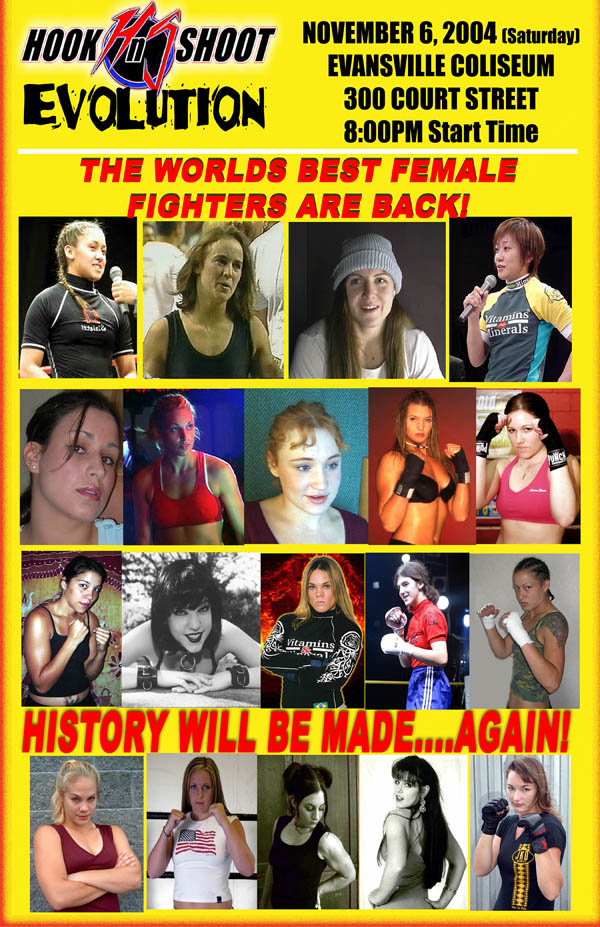 The card so far:
ERICA MONTOYA vs. MEGUMI FUJI 125LBS
JUDY NEFF vs. LINDA LANGERAK 135LBS
KERI CROTHERS vs. JULIE KEDZIE 140lbs
KELLY KOBOLD vs. GINELLE MARQUEZ 135lbs
TARA LAROSA vs. TBA 135lbs
TEVI SAY vs. LISA WARD 125LBS
SARA BOYD vs. ADRIENNA JENKINS 135LBS
AMANDA BUCKNER vs. HEATHER SODERQUIST 135lbs
RIKKI BURNETT vs. JAN FINNEY 135lbs
KELLEN HUEHN vs. MANDY STEWART 130LBS